The Act Out & About (@TheActFoodTruck): The pub you know and love is now on wheels! That's right, The Next Act is serving up favourites like their Cajun halibut sandwich, Drama Queen veggie burger, and the signature Act salad street side! Listen for the jalopy horn!

Bo Thai: From Thailand to the streets of Edmonton, Bo Thai serves up Thai cuisine that proves that authenticity isn't tied to the kitchen, but to the chef. Expect fragrant curries and spicy stir-fries.

Bully Food Truck (@bullytruck): There's a new bully in town, and they're out for your lunch money! What you'll get in return is gourmet comfort food like pulled pork meatballs, stuffed chicken and mac 'n' cheese. Don't be afraid – just be hungry!

Carnival Cravings (@carnivalcraving): All it takes is a sip of tangy lemonade, wisp of cotton candy, crackle of a salty pretzel or the aroma of freshly fried mini doughnuts to remind you of midways and childhoods of yore. Check out Carnival Cravings for a bite of nostalgia.
Drift (@driftfoodtruck): With ingredients like duck confit, jerk chicken and pork belly, Drift serves up far from your average sandwich! Drift's creative combinations and locally-sourced products elevates the humble sandwich to true gourmet status.

Eva Sweet (@evasweetwaffles): From the streets of Belgium to Edmonton, Eva Sweet offers a taste of authentic liege waffles. With a caramelized surface and kernels of pearl sugar hidden within, each waffle is an indulgence that shouldn't be missed!
Fat Franks (@FatFranksDogs): Fat Franks is synonymous with street food in Edmonton. Their ubiquitous carts, parked at a corner or a festival near you, mean a quality 'dog is never far from reach.

Filistix (@Filistix): Fusion is no longer a dirty word! Pairing braised beef and pork belly with pineapple salsa, or merging sesame soy slaw with cranberries and almonds, Filistix ensures bold flavours are the order of the day.

The Fork and Spoon Brigade: Rolling in with their brand of comfort food made with farm fresh ingredients, you can be sure the Fork and Spoon Brigade does hearty, homestyle fare right. And with their all day breakfast, you can't go wrong.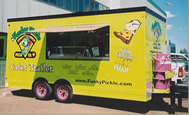 Funky Pickle: With pizzas named the "Cornald Sausanager" and the "Pig Kahuna", you know you're in store for the unexpected! Funky Pickle brings their creative combinations for a refreshing spin on a slice.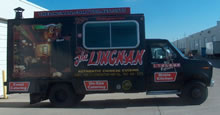 The Lingnan: Crispy spring rolls, kung pao chicken, and their famous dry and spicy chicken can't be contained to four walls alone. An Edmonton institution for over sixty years, The Lingnan's much-loved Chinese cuisine is now mobile!

Little Village (@littlevillageFT): This freewheelin' Greek eatery is now in business! Expect fresh Mediterranean flavours in dishes such as the kefteddy burger, slow roasted lamb, and their signature potatoes.

Molly's Eats (@MollysEats): If there's one food truck that could take you around the world in eighty bites, Molly's Eats would be it! Expect anything from green onion cakes and empanadas to inspired soft tacos like bulgolgi beef with red cabbage slaw.

Nomad (@nomadmobile): With rotating features of no more than two dishes each day, Nomad certainly keeps diners on their toes! But what's always on the menu is quality, flavour and barbeque served with a side of flair.

Smokehouse BBQ (@SmokehouseBB): Bring on the meat! Smokehouse BBQ will have you begging for more – whether it is their pulled pork, barbecued beef or their signature "bacon bomb" sandwich, good BBQ is now mobile!

Yellowbird Cafe Truck (@ybcafetruck): A mobile bistro, Yellow Bird Cafe Truck offers up fare like hearty soups, sandwiches and chili.